Bread basket of Europe is an old description of Ukraine.
Among all the associations foreigners have with Ukraine, the oldest and still valid assertion that Ukraine is the bread basket of Europe. So, why is Ukraine called the "Bread Basket of Europe?"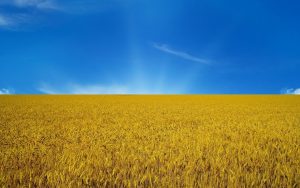 The fertile black soil, the vast fields of wheat, barley, rye, oats, sunflower, beets and other grain and oil crops  have earned Ukraine the nickname "bread basket of Europe."
According to the CIA World Factbook, Ukraine produced 25% of all agricultural output in the former Soviet Union. Today, Ukraine exports internationally substantial amounts of grains, rapeseeds, vegetables, sugar, sunflower oil, milk powder and meat. Agricultural exports (including non-food exports) go to China, European Union, Middle East and Africa.
Food processing, especially sugar and oil processing, is an important segment of the Ukraine's economy. Nearly one out of four workers in Ukraine is employed in agriculture or forestry – quite an impressive figure for a 50-million population of the largest European country.
Ukraine is the world leader in  sunflower oil and ranks among top five in corn, soya, wheat and barley. Yet, the potential in many areas of animal production and field-to-fork value added food production still remains to be realized.
The status of Ukraine as a Bread Basket of Europe will certainly be supported further after the land moratorium ends in July 2021.